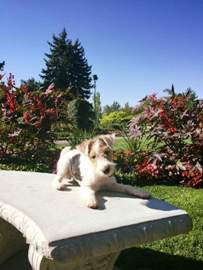 Hi Joy...
My wirefox, Damita is the sunshine of my life. I do not have the words to describe how pleased I am. She is such a sweetheart and so very intelligent. I absolutely love her. Adopting her from you is one of the best choices I have ever made! Again, thank you!
owned by DAVID LARSSEN
SALT LAKE CITY UTAH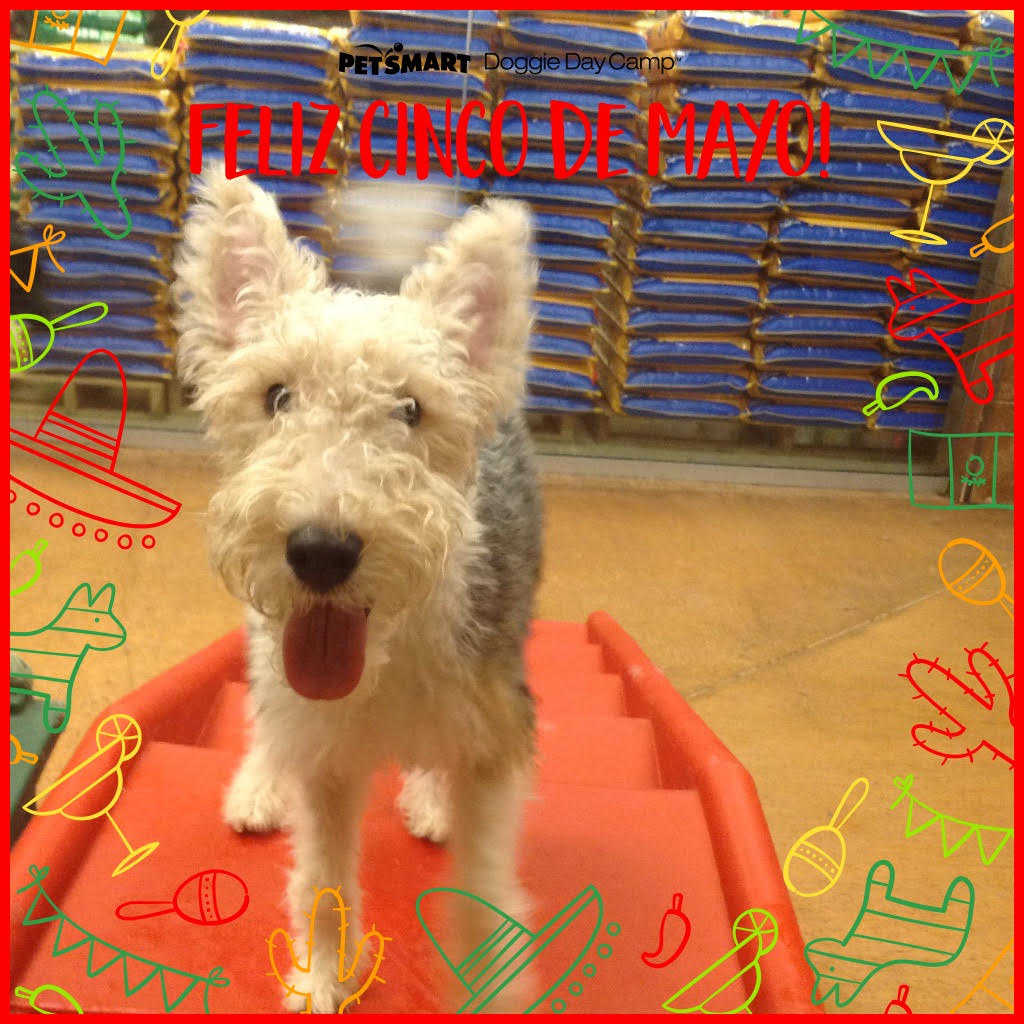 Hi Joy,

hope you are doing great! Don't know if you remember me, but you shipped me a Wire Fox Terrier last year (to Puerto Rico). London is doing great, I am sending you a picture of him!

David from Puerto Rico

Sid
Owned by Stephanie in Iowa

Rags and Scraps
Owned by Peter Dougherty
Gainsville FL

Lucas
Owned by Linda Pizzo
Hey Joy,

Hobbes is doing great. We just had her spayed so she recovering nicely from that. She is ready to get the cone off her head.

She has been a great addition to our household. She has yet to met a stranger or a dog that she did not want to play with. We have been taking her doggy daycare once or twice a week and she has a blast. We enjoy it too because she comes home exhausted. Attached are a couple of latest pictures.

Thanks

Jim
Hi Joy,

Here are some pics of Abby. She's really playful, energetic, and Miss Personality. She's doing fine at 16 weeks. Weighs between 10 and 11 lbs., and we have finished all her puppy vet visits. She's doing well with potty training. She sleeps in her crate all night and has not messed the bed in it one time. She knows what we're going out for in the morning or for a walk, but she also knows to use a pad if we can't get out because of weather, etc. She responds well to her name and comes (most of the time) when called. We're pleased to have her in our home.

Keeps old people young. :-)

ABBY, Owned by Robert Bowman



Lilo (Gone but not Forgotten)




Owned by Sean Augustus


Alyssa
Owned By Emily Wegmann

Alexis
Owned By Fran Mitchum
Hi Joy,

We are loving our dear Bode and wanted to share some photos! Some are with our Airedale, Stella.

He's going to puppy kindergarten and is the 'star'!

Hope you are well,

Bobbie Montgomery

GIBBIE


Owned by Paula Jackson


Pepper


Owned by Deepanjana Klein


In Memory of Oliver
Owned by Scott & Marilyn Irwin
"He was our greatest joy!"
Hixson, Tx
Hello Mama Joy hope you are well remember me? Duke (crash) im 2 years and 2 months old now, born July 25, 2012. My parents Juan and Wanda Jureidini from Homestead Florida. Im so happy and they love me very much. Love you.

He has been a blessing in our lives. Best dog ever, he is truly a WOW dog.

Thanks always for him.

Juan & Wanda

Wendy


Owned by Kim Winslow, Orlando FL




Dio


Owned by Trevor Campbell, Bozeman MT


Rowdy
Owned By Joanne Lampe, MO

Tootsie, New Jersey
Owned by Pat Lingelbach

Dizzy Dame (pink flower), Retired Wire Fox
Adopted by Gnonie Gramick, St. Louis

Miles


Owned by Arterbury Family

Rowdy
Owned by Joanne


Linus (2 yrs) and Leah (5 months)
Owned by Jeanmarie Quarterman


Cracker (and Friends)
Owned by Ashley Coulter

Parker, Phoenix Arizona
1st Vet Exam, Owned by William Bulaclac

Benji, California
Owned by Ben

Charlie
Owned by Silvana Perdoma


Wolfie, Arkansas
Owned by Kim Quayle

My very best friend is a French Bull Dog named Pookie. We live together and I like to use her as a pillow during nap time. Sometimes I get a little to rambunctious and Mom has to scold me. It turns out that I am very sensitive for a Terrier and I get my feelings hurt easily. I will generally sulk when scolded until Mom picks me up and kisses my face and tells me it is all okay. I now play fetch and I am learning how to play Frisbee. I can easily out run the French Bull Dog so when she gets tired we play tug of war.

I made up a song after my first week in my life time home that more or less summed up my happy puppy days -

One, Two – Chew on a Shoe




Three, Four – Run out the Door




Five, Six – Swing off the French Bull Dog's Lips
Seven, Eight – Climb the Gate




Nine, Ten – Take a Nap and Start All Over Again

I have included some pictures of me in some of my many outfits -





Max, Plano TX
Owned by Richard Labadie

Harris Welsh Terrier and
Quincy Wire Fox Terrier
Owned by Sarah and Zac Swade

TIPPER, in TENNESSEE
Owned by Susan Bone

Koda
Owned by Connor Family

Boomer, Arkansas
Owned by Zeke Allen

Zoe, Tampa FL
Owned by Melissa Wallace

Dizzy Dame (Retired)
Living with her Forever Family
Gnonie Gramich in St. Louis

Chloe, First Hike
owned by HEIDI SCHROEDER

Beau, Over the Road Trucker Pup!
He loves his job!
Owned by Joyce Hagensick, MO

DARBY, owned by Dan Jore

SUNNY, Enjoying the Snow in Colorado
Owned by Carol and Gary Kyte

SCRUFFY, Playing in the Snow
Owned by Kim Holt in New York
| | |
| --- | --- |
| Hello my name is Joseph H Ortiz of San Juan Puerto Rico. I have to say that the arrival of ADELE my life has been a great joy and love to all my family. It is the first time in my life I have adopted a pet and feel that will make in the one I have to love my heart and all my friends. Adele has energy and attitude has helped me change my lifestyle and above all have a responsibility to be his master. I want to tell Joy that I have no words to describe my gratitude to you for giving me the opportunity to have a partner in my life. God bless you always for the love you give to each of the families. | |


Jasper, Pittsburg, PA
Owned by Cynthia Horton
Playing with his Lab Buddies

ADELE, Puerto Rico
Owned by Ortiz Family


Bongo, San Antonio, Texas
Owned by Janice Cadena
Joy,
Almost three years ago I contacted you about a Wire Fox Terrier named Bobbi. My husband and I met her at the airport about a week later, and immediately fell in love. Her name now is Dizzie, which suits her personality for sure! Dizzie has brought more joy and love into our lives than we could have ever imagined. I could never thank you enough for what you have given us. Dizzie is still a Chattanooga, TN resident. She loves her younger sister Rikku whom we got a right as Dizzie turned a year old. She has quite the diva personality constantly demanding attention but equally giving just as much love in return. Her birthday is at the end of this month and the neighborhood dogs are getting together to celebrate with turkey cupcakes and she is super excited! We apologize it has taken this long to give an update, but will be sending them more often. Once again thank you so much, what you do is so special.

Thanks,

Emily Duff
What a great feeling inside my heart I got when I saw the pup for the first time. A beautiful dog Joy, so lovely and clean. It fell asleep on the ride home right on my lap. Once home I fed and gave it water and bathed it. It began to familirise itself to the house and back yard. Once the birthday girl arrived and I surprised her with her puppy everything totally fell into place and I knew it was meant to be . Call me crazy or a hopeless romantic but when Allison and the pup met it was like they have known one another in previous lifes. They clicked like old souls, they laughed they both kissed and hugged each other they jumped w joy I mean the fire in there hearts ignited and I knew they were going to be inseperable.The pup didn't react this way with me but with Allison it was magic. Would you have guessed she named it Benji lol i mean thats my name Benjamin lol oh well I'll have to live with that. Thank you so much Joy you are truely blessed with the gift of producing amazing beautiful dogs for millions of family's like us.

Benjamin Hernandez
JASPER
Owned by Cynthia Horton


LOLA
Owned by Pat & Ed Farrand
Taking a Christmas Nap



DUKE ( formerly Crash )
Owned by Juan and Wanda

Homestead Florida

DOB: July 25, 2012

First Groom today !!

GRACIE
Owned by Michelle and Ken Shaw, IDAHO

SAMMY
Owned by JENNY and JORDAN ROUNDY
Maryland


Brothers
Owned by Christa Gonzales
Hello Joy,

This is the Haken's just giving you an update on Harvey. We know it has been a while and we apologize; our lives have been so busy lately. Harvey celebrated his 1st birthday on 04-11-2012 and enjoyed all the presents he got and the doggie birthday cake Autumn made for him. The more we age with Harvey the more we get to know his personality. He is a very social dog when it comes to other dogs but he is still quite timid around all strangers. Harvey's two most favorite games to play with Andy are tug-of-war and fetch and Harvey also likes snuggling up on the couch with Autumn to watch TV and relax. We have attached some photos of Harvey for you. We will try and be more timely in getting you updates.

Have a great day and once again, thank you for Harvey!

Andy & Autumn
Hi Joy!!
Just wanted to let you know Jamie is doing great!! She is such a sweet girl. She has learned to sit and is coming along great with potty training. I've attached a couple of pics of her. Her favorite toy is the fox she has in the pic with my son, Kaden. She loves to go on walks and visiting the grandparents.

We love her so much!! Thank you for the great job you did with her!!

Kellee

New

Jake Owned by Jessica Burch

Asta, Owned by Lisa Howard
Indiana

Jesse Owned by Carrie Hildebrandt
Hello Joy,

Just wanted to let you know that Daisy (Miss Daisy Flower Nose) is in perfect health and adjusting to our family very well. She is eating great, sleeping all night in her crate, learning to sit and come, and loves all the kids (did I ever mention that I have four kids?)

We are all in love and very happy with Happy (Daisy :) Thank you for the perfect addition to our family.

Daisy's favorite thing to do is play in the sand with the kids. She buries her nose and most of her face and just rolls around. She is very happy being a California Girld.

Thank you
Suzie
Hi Joy,
My first 48 hours with my new family have been great. They liked my name Reggie but thought I was more creative and artsy so I am now called Picasso. I have a 14 year old brother, 11 year old sister and 6 year old bichi poo playmate. Her name is Mona Lisa, and we have become fast friends.
I met my vet yesterday. He says I am perfect. My heart and lungs are good and everything else seems to be working properly. I am still trying to grow into my legs and feet and sometimes trip, my family thinks it's funny when i go up the step. I sleep in my crate and nap there too. I have a big back yard to romp around in. Sometimes dad turns on the sprinkler and I get to play in the water. Mom says I am all puppy and have some lessons to learn. She doesn't like it when i find my brother's shoes to chew on, but it feels so good on my puppy teeth. I am trying to get the potty training down. I'm not perfect but am trying really hard. Yesterday as I was following mom thru the house I found myself in a mirror....boy am I funny! It's time for my nap. As I get bigger I will send you pictures and updates on myself. Thanks for helping me find my forever family. Tell everyone hi.

Picasso
Dear Joy:




Wow,I just turned 6- months old on April 25th and I am one handsome dude.I have grown up quickly and mommy and daddy think I'm a very GOOD boy.I love my new home and I now have a HUGE fenced-in yard to play in.I have plenty of toy's to keep me busy inside and out but my favorite thing to do is take walks.I'm getting neutered on May 17 th and mommy and daddy said that it will just make me an even better dog than I am now.( I don't see how that's possible, Ha Ha).Well gotta go for now,Miss you Joy.


Your little litter dude, Tyler T.
Joy, we wanted to wish you a,

Happy Mother's Day

Life has been really hectic here since last summer, however the brightest spot is the love and antics of the terrier-teers. In the picture from left to right is, Jasper, Rowdy and Asta.

We hope you have a wonderful day.

Lavina, Jerry, Asta, Rowdy and Jasper

Perry and Best Buddy Mathew Kaminsky

Trystan
Owned by Shane Cawley

Jack
Owned by Chris Goldstein, Cait McDonagh
New York

Hi Joy,

We received the registration yesterday and I want to thank you very much. Here are some pictures of Sunny from the last month. As you can see she makes friends with many animals and people. Her favorite friend is Suka, my daughter's Siberian Husky, that Sunny terrorizes and will not back down. She also knew to be very gentle with 18 year old Kiwi, who passed away just a couple weeks ago. And she loved playing with two of my grandsons, 7 and 8, when they spent a week here going to a day camp.

She is very curious about all the animals, including horses. When we are walking and she spots a deer, she will just sit and stare for the longest time. One day as we were on the back porch headed for the back yard, Sunny (still in my arms)started barking furiously and spotted a mama bear and her cub in an apple tree. The bear immediately scurried out of the yard and up into a huge pine tree on the other side of the fence. (Joy, Sunny is never left outside by herself for these very reasons. I am always with her when she is running loose in the backyard.)

Sunny has had all her puppy shots and knows to sit when asked and housebroken. She is as rambunctious as we knew she would be, but so very sweet when she is calmed down and tired. I thought the crate she came in would last forever, but she can stretch the length of it so we have a larger one. She really does love sleeping in the crate and except for the first night, readily goes in at bedtime and sometimes just through the day.

She really is my Sunshine every day. Thanks again, Carol and Gary Kyte



My Dear Joy,

You can not even imagine the happiness that my Charlie has brought into our home, and even the neighborhood. Everyone loves him. I totally believe he is the cutest dog in Dallas!!!! I just received today his registration. Thank you for sending it. He is one amazingly smart dog and also challenging. With a personality of his own and some craziness around. He has changed my life for good. I am enclosing some pictures for you to know how spoiled and adorable he is.

There are no words to thank you enough. My life turns around him now.

I will keep you updated.


Silvana
Dallas, Texas

Çoco
Owned by Virginie Guerra Mondragon
Florida

MEMORIAL to BAILEY
Was loved by her family,
Pat & Ed Farand of Weston, MO

Memorial to Benny
Owned by William Marty
Loved to travel and enjoy RV life
Loved Grandkids and Loved by Family
Will be sadly missed....but never forgotten.

Penelope, lives in Springfield, MO
Owned by Sabrina Paschall

Chez, Wire Fox and Dylan, Welsh
Owned by Chuck Vela, Texas
First trip to the Groomer

Dear Joy:
Look at what a big boy I am! Mommy and Daddy just love me all to pieces ,they think I'm a ROCK STAR.I go to pre-k at a really cool place where theirs lots of other puppy's to play with and all the adults think I'm so cute! I follow all the directions and do a really good job to make my trainer very happy.I love living in the Finger-lakes of Beautiful NewYork.Hopefully it will snow again real soon because I love to play in it.Well gotta go,it's time for my happy-nappy.Talk to you real soon. Joy, I miss you very much and hope you are doing wonderful too.
Love Ya. Tyler T.
Owned by ROBIN & RANDY, New York


Punkin
Owned by the Fowlers

Buddy in Arkansas
Owned by Theede Family

Wanda on her Travel Bag
Long ride home to Wisconsin
(she thinks it is her bed....)
Owned by Sackrison Family
Buster Ruger Rushin has become the STAR of our family over the past year and a half. He is TRULY loved and he appears to truly love each of us equally. Naturally, Buster is REALLY REALLY good or REALLY REALLY bad (mischevious) at times. But, his being the 9th Wire-Hair in my life time we are quite adapted to "life with a terrier" and we would never have it any other way. Thanks for raising such a BLESSING to our lives.


Happy New Year and the best for of all your endeavors in 2012.

Sincerely, John, Barbara & Alysson Rushin
Hi Joy,
It's me "Mico", I will be a year old on 1/17/12! My mommy thought you would want to see how much I have grown! I am loving my life in Seattle and today I experienced my first 3 inches of snow since I moved here last March. I love the snow! On the picture attached, can see the look on my face when my mommy asked if I wanted to come inside....my look is saying..."Are you kidding, I am not coming in any time soon!"
My hair is a little long for now to keep me warm in the winter, but my mom has always stripped my hair and will be doing so soon so that my hair will not lose to much color. I have been in perfect health and I am well trained. My mom says I am so smart. Here are the commands and things that I know or have done:

Sit
Stay - I can stay in place for a long time without moving!
Lay down
Go get your toy
Get your bone
Go to your mat
Go to your crate
Heel
Drop it
Fetch - I love fetch! You must have taught me this, as when I arrived in Seattle at 9 weeks, I already knew how, I just didn't know how to "drop it", but know I do!
Loose leash walking
I eat my food slowly
I am gentle around babies and small children
I maintain control when I see other dogs on a walk
I am still a little jumpy when I see people, but I think my mom will have this behavior stopped completely in a few weeks as she tried a new technique with a different sound that stopped this behavior almost immediately.
I never potty in the house...My mom did a good job training me! I ring a bell when I want to go out!
I sleep in my crate at night and I never cry or whine!
I still walk perfectly on the treadmill, as I have done since my mommy taught me 3 days into arriving in Seattle
I love Bully Sticks...I have hidden a endless supply around the house!
I made my first international trip to Canada this past summer and walked 13 miles around Stanley Park in Vancouver BC! The Westin Hotel treated me like a queen!
I went to a training ranch (no kennels) for 3 weeks while my parents went on a trip and learned lots of new tricks and made new friends.......I have never had a social problem with any kind of dog!
I love the dog park and I always keep an eye on my mommy so I will not stray to far. I love all the dogs there....and I am not afraid of big dogs.
I am a

natural swimmer!

I will jump in the water and fetch balls or any toy....I will even swim under water to fetch a toy!

Thanks for doing such a good job with breeding me....I hope to always be able to give you a excellent report each year! My mom continues to read lots of books on dog training and dog psychology and we both like watching the Dog Whisperer together! We hope this email find you doing well....say hello to my family their in Missouri!
God bless, Mico and The Hartmann's
Hello Joy !

Happy Holidays to you and your family.. I wanted to let you know that Zoe is doing great, she is the love of our life.. We have so much fun for her.. She keeps us on our toes all the time..

I have another photo for you of Brandon and Zoe. I had them done about a month ago..

Always

Brenda , Brandon and Zoe.. ( Martinez Family )
Hi Joy.

Just dropping a note.. my book came out the culinary Canine, great chefs cook for their dogs. It was on Martha Stewart and Izzie is in a photo on the back..
http://www.amazon.com/Culinary-Canine-Great-Chefs-Their/dp/1935484567
She is doing wonderful! I just love her to pieces, as does everyone that meets her! She Will be a year soon and is as gorgeous as ever.. she loves horses.. almost stupidly.. goes out into the pasture and wants them to play with her.. she is very fast.. She is as fast as my horse at a full canter, but in a gallop we blow her away.. she loves to go on trails and my horse likes having her around.. She was chased by a 17hand horse last week and she stopped and turned around to see if he was keeping up.. he stopped dead in his tracks as he couldn't believe her! I also taught her to lead my horse around.. which she does, but my horse isnt keen on it and will rattle the gate to go back into the pasture.. its too funny!!! She is living the life!!!
Hi Joy!
This is Andy and Autumn Haken, Harvey's proud parents! We just wanted to email you and update you on Harvey.
Harvey is doing really well! He has definitley become a big part of our family!
We weighed him yesterday and he is now 14lbs. He has an appt to be neutered in a week. He usually goes on a long run with Andy every day and he loves it! He also absolutley LOVES car rides! They are like field trips to him and he just loves them! He also likes playing fetch. We take him out to the farm when we can and he loves being off his leash and running around with the big dogs! He is still a bit shy around people as we pass them on walks but he is getting better. His ears have been up lately and we're not sure why or if they'll fold back down. Is that normal?
We are attaching some pictures for you to enjoy! :)
Thanks again,
Autumn, Andy and Harvey
HI Joy!

Just a quick message to let you know that Colby is doing well and he has been a wonderful addition to the family. He is now 15 lbs and has a great personality. He does find himself in trouble from time to time...such as putting a hole in the wall, a couple of shoes have been destroyed and for some reason he loves toliet paper. He is a fantastic sleeper. He goes in his "room" around 9 (when the kids head off the bed) and he wakes around 6-6:30 to go out. The children just Love him to pieces!

I'm attaching a picture that I hope you get. I'm not very good with all this computer stuff. Oh and his picture is hanging up in the Vets office b/c he is just so darn cute!

Thank you for our puppy!!!

The Pellegrino Family




WINSTON
owned by RANDALL TOLPINRUD

Salt Lake City
Hi, Joy. We got Ozzie (the wire fox terrier puppy formerly known as Dylan) in July when we met Jean in Columbia. Just wanted to let you know what a great puppy he is and how much we are enjoying him. He had his first haircut about a month ago. I've been wanting to send you a photo and say thanks for making this addition to our family possible.

Kathy Taylor
Fort Dodge, Iowa

Zoe with Owner Brandon

Ashley Moore and Amy Conner

in St Augustine Florida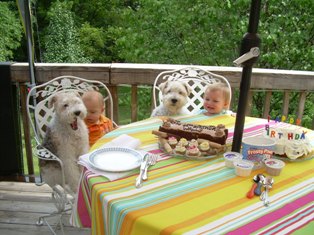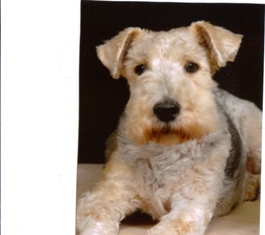 Wally's Birthday Party!! Baby sitting the grandkids!!
owned by Nonie Gramlich
In Memory of Wally, 15 years old
Hi Joy,

Just thought I would check in with you and let you know that Molly is doing just great! She has put on almost 2 pounds since I picked her up. She's really becoming part of our family. She's healthy, happy and ornery and my whole family just loves her. My Vet told us she is just beautiful and he gave her kisses and I've never seen him do that before and he's been our family Vet for years. I've attached a few photo's of her and I just wanted to let you know she's doing really well.

Thanks for a GREAT Puppy!

Rhonda Heavener-Bryant
Joy,

We made it home Saturday and everything is going very well. We decided to name him "Jack". He is awesome. He's eating and drinking and loving all the attention the boys are giving him. He's so playful. I have made his 1st vet appointment for today and will keep in touch. I have attached a couple of pictures for you to see. I will send more later also.

Thanks so much,

The Schaumburg Family
Joy,

As part of Harry"s (Lex) journey from puppyhood to being a socially astute adult, we have tried to provide opportunities to enhance his socialization process. He has learned to enjoy travel in the car, walk America's bustling sidewalks, meet his peers and other interesting human beings, experience the phenomenon of snow while dealing with the challenge of ice. He has shown an interest in interior design by moving our personal items from place to place throughout our home. So we will have coordinated with our contractor to allow Harry the opportunity to assist is a remodeling project. Although Harry is looking forward to hiking in the mountains and taking swimming lessons next month, his greatest achievement has been graduating from the training academy. Harry now refers to himself as the "Graduate."

Regards,

Stuart Schertz

San Antonio, TX
Hi Joy,


I thought I'd send you a quick up-date on how Ripley is doing, He is fast becoming a hit with everyone whom he meets. Ripley is sleeping through the nights with no accidents in his crate and is very willing to have his day time naps in his crate. He is almost house train as we have fast learnt Ripley's Schedule, he is eating well (still on NUTRO ULTRA Puppy) and loves his treats of baby carrots and Gala apples cut in small pieces, we have also got him a Healthy & Natural snack made by Wellness for puppy's, Made with Lamb, Salmon and whole fruits and veggies. It contains No meat by-products, Corn, Wheat, Soy, dairy, Artificial colors or Flavors. Ripley has been shopping with Claire and Andrew and loves his new toys, multiple leash's, collars and food dishes for in the house and on the deck. I will update Ripley's photos as he grows. His yard is 1/2 an acre and backs on to green space before the river which runs behind our home. Joy, Ripley is very happy in his forever home and we are very happy with Ripley.

RIPLEY owned by the McGratton family in CANADA
Dear friends and family,

It is with a joyous heart I come to you with news of my new love. I met her on the internet, she lived in Missouri. After a long time of careful thought and prayer I have decided to commit my life to her. I have in fact sent for her and have flown her from her home in Missouri to come here to Montana so we can live out our lives together in total bliss.

I know you must be wondering about Jeanie! Well, God bless her soul, she is taking this very well. She says she understands and that (here's the amazing part) she is so happy for me and my new life that she will probably stay with me. She is such a great gal!

Anyway, enough about her! I have attached some pictures of my new love, I think after seeing these you will quickly understand why I have chosen "Libby" as my new and constant companion.

Sincerely, Tom Gentry from Montana
Dear Ms Joy:

We went by the air terminal around 1:20PM, in time to see the airline luggage cart arrive with 4 puppies. Three gray crates and your red one.

Five minutes later we had Willie in our arms.

Here is a picture of our Alex with his new brother, he chose to name him Luigi.

Everything is fine, you may post this picture in your website and I will send more in the future.

Have a nice weekend.

Alex and Maria Bonavita

Miami Florida
Joy:

Wynona is now Sadie and is doing wonderfully, eating and drinking her water! She is a welcome member of our family and facebook friends are commenting on her posted photos. She checked out at our vet's office--she is the only wire fox terrier in the practice. She is playful and so funny and definitely smart. Attached is a photo of her on her first day home.

Regina Kelsey, Houston Texas
Izzie owned by Sabina Pierce
Philadelphia, PA


Gayle Rose & Son with Wanda

Memphis TN


Jilly owned by Marks Family
Houston Texas
Buster, owned by Barbara Rushin
St. Joseph, Missouri

Buster at his favorite place to
supervise the neighborhood.

Ready for his walk with Dad.

Buster in his corral for "time-out!"
Dear Joy:

I just wanted to drop you a line and let you know that Bugsy (formerly known as Bling) is doing great. We named her Bugsy because of her love of carrots and how she nearly hops when she runs. We have enjoyed her so much, and she is learning very quickly all the rules. Loves to go on walks and be outside, but is perfectly content to play in the sun room while I do my work on the computer.

Thanks again for everything. She is a true delight!

Lois Bryant
Hi Joy,

Today is Rowdy's first birthday. He didn't quite know what to think of the candle on his pupcake but he was definitely interested since there was food involved. Asta and Rowdy had their traditional dinner this evening, both got some new toys, and a bag of tennis balls a piece. They had long walks this morning, played all afternoon, and had a very special day.

Both are doing very well. They seemed to get tired of the snow this winter and both love playing outdoors, they love to run, chase each other and just have fun. Today was his day (and hers) and they totally enjoyed being the center of attention.

Jerry and Lavina Chambers
Hi Joy,
just thought I would send you a up date on Chelsie. Today is her Birthday so we had a little party and I will send you pictures. Chelsie passed her obedience class with flying colors and is doing great. She weighs 21 pounds now and is very healthy. Chelsie is very active inside the house as well as outside and is waiting for summer to come so we can go camping which she loves!! Hopefully the pictures will follow this e-mail.
Thank you Joy once again!


Good Morning, Joy:
A short note to let you know Max had his vet visit and they all loved him. One of the girls in the office took his pic. He will start Puppy kindergarten on Thursday. We just love him!
Alene & George Todd

Later....


Good Afternoon, Joy:
I am sending updated pictures of Max. The last picture you have is on your website when he had his first vet visit (still lived in NJ) He will be a year old on Jan. 31st and is a big boy now and has brought us much joy. We have finally retired to our new home in Myrtle Beach, SC and he really runs like the wind in his fenced yard. He is one big bundle of energy and loves our grandchildren and everyone he meets.

Alene & George Todd


Max, All Grown Up
Dear Ms. Thomas,

In 1997 (after years of begging my parents for a dog), my family bought a wire fox terrier puppy from you. We named him Bennett and I cannot even begin to tell you how much he means to my family. Bennett is 14 years old now and besides his eyes and ears starting to go, he is healthy and energetic. I have attached some pictures of him.

Now I am 23, graduating college, and moving to Kansas City, MO for my job. I cannot take Bennett with me so I was hoping to get my own puppies....


Thanks!

Morgan Goldammer
Joy,

It's been a little while since we got Lola, her name is now Bella. She is very active and playful. She is just understanding how to sit and lay down. She is about potty trained now. Bella will go to the door and sit to let us know that she wants to go out. She lets us brush her teeth as well. She is very spoiled and loved. We just wanted to let you know that every is good.

Have attached a photo of Bella.

Mike Hanthorn
Maggie has been a wonderful addition to my family. My four year old grand daughter, Zoe, just loves her.

Louie, my big tom cat and Maggie love to play. She loves to be outdoors and has gone on small walks with me. The crate training is coming along good.

She is quite a tenaciously little character; very intelligent and sweet.

Jackie Regnier, Nebraska
Joy,
I just wanted to send you a picture of Della's first day with us......we renamed her Mico (pronounced Meeco). She is very bright! Here are the things she is doing:

She loves her crate and takes her naps and sleeps over night in the crate. While she is napping the door is left open to the crate...she sometimes just takes a toy in her crate and plays with it!
She is tethered to me while she is at home being house trained, so I can catch any unwanted behavior. We bought a ugodog potty Ugodog website for her and we never taught her to use it...she just started using it on her own the first day home with us!
It rains a lot here in Seattle, so we wanted to teach Mico how to use a treadmill. Monday she finally got it!...
She's so funny, she knows when we are leaving as she takes her toys and sits in her crate without being told.....her face is so cute ....it's hard to ever leave her.

I will stay in touch! Mico is very happy and so are we! Don't worry....Mico came home in her crate not the front seat of my care where I took the picture!
Evon Hartmann, Seattle WA
Hi Joy,
I renamed Lovey to Izzie, and she has lived up to it, she is doing wonderful and is fitting in perfectly, my 12 yr old is going to lose lots of weight with all the playing going on!

I have a friend, a surgeon at Penn Vet who my be interested in Lenny as she flipped over Izzie.

Thanks Sabina

Hi Joy,

Just wanted you to know that we have had Arlo for 6 weeks now and he is doing great! The kids love him and play with him constantly. Our family is very impressed on how well behaved he is. I am currently enrolled in a puppy training class which he is doing very well at. Arlo every week always plays rough with this labradoodle and always holds his own. His transition to our home from yours went well also. We take him out at night before bed and up in the morning with me before I leave for work with no accidents so far in his kennel. Overall our experience has been a great one. We thank you for all the expertise you gave us and for answering all of our questions. We will definitely recommend you to everyone. I've attached a couple of pictures of him....

Thank you,
Dan and Tina Winters
Huntley, Il.

Hi Joy,

I just had to send you this sweet picture of our Baby Bella. She is so special, thanks for making it possible for us to have her!!!

Teresa Sheriff, South Carolina
Dear Joy,

Winston is a dear little guy. He is growing leaps and bounds and keeps the family on its proverbial toes! I wanted to show you just how big he is now.

He is 4 months old today!

Winston owned by Alicia Tolpinrud, Utah
Hi Joy!

Bing is very fascinated with the water!
Here, he is seeing ducks for the first time. He went for his first boat ride yesterday and loved it! He is getting more mature, doing very well with his training. We do our daily walks through town and he keeps up a good pace!
He is so perfect!

Bing owned by Denise Bonner

Later...
He was neutered 2 weeks ago, doing just fine. He has beautiful white adult teeth now. A real love bug...sleeps with me every night...very attached to my hip! Hope all is well... We just had 2 blizzards back to back ...3 ft. of snow!

Bing loves the snow!
Thought I would drop a line and say hi, and let you know how well Trystan is.

She is now 2 and a half and in fine form. I have enclosed some pics for you and thank you for providing me with such a great dog. Her temperament in particular makes her an excellent dog. Because her temperament is so good you forget she is a "terrier"

Be well,

Shane (n' Trystan) Cawley
Toronto Ontario Canada
Just had to share a few photos! He's getting tall.

Harvey owned by
Roxann Kinkade
Hi Joy,

Just wanted to let you know how much I am enjoying my new puppy. Potty training is going great, as far as her sleeping in her crate at night, I caved in and she has been sleeping in the bed with me. She wakes me up if she needs to go out! Here is a pick of her sound asleep on the couch and one on my bed.


Garret Giddens, North Carolina
Joy

Rowdy's favorite hideout besides his crate is under the kitchen table bench. He doesn't miss a thing and likes the coolness of the tiles.

Jerry and Lavina Chambers
Joy:

I know you asked for pictures of "Riley" and I couldn't remember if I sent them - Here is a recent photo - He is doing fine - Extremely active but with lots of personality - Both Kathy and I have commented that we've never had a puppy who enjoyed his toys as much as Riley does or is as nosey as he is - He likes his food "Nutromax" but also Cheese, Grapes, Apples, Peaches, Tomatoes, most other veggies, Popcorn, Vanilla Yogurt and when he can beg it, Ice Cream - There haven't been any real problems and he attended "Puppy School" this summer - I admit that we thought he would flunk out but he didn't and walks on his leash, very well - He likes everyone but chases bees in the yard - Also pulls out the flowers but we're used to that - Again we are very satisfied and "Riley" appears to like "Owning" us.

Respectfully

Derby owned by Christine Cazes

Max owned by Michael Langton

Henry owned by Stuart Schertz in
San Antonio Texas
(Visiting Colorado & snow for the first time)
Joy, just wanted to let you know how our pup, Grace, is doing. She is growing and is a source of fun and joy to us. I am attaching a pic of Grace and her "friend" Kitty Boy. Also a pic of Grace, Myself and my son in his jeep. She loves to go places (cuz everyone loves her!!). She is so much fun and interested in EVERY THING we do and loves to "help" bring in the horses in the evening.
Thanks again for such a great gal!!
Debi in Illinois
The following pics are of Buster RUGER RUSHIN at 17 weeks old. His check ups at the vet have been A-OK and has all his shots up to date. Is extremely lively and frisky, as would be expected for his breed plus he is VERY dedicated to each of us.
As you can see Buster is a true part of our family.
Thanks again!

Barbara Rushin
Some more pics of Rusty.

George Liquori


Here's two chicks, basking in the sunlight> check-out the belly freckles! Penelope had her first pro groom on Sat. We decided to stay w/puppy

cut, for the first time. She behaved well. Penelope is all but house broken, and begins her puppy home manners class 3-3. We are very happy!

Sabrina Paschal
Hey Joy, how are you? About a year ago we bought Darwin from you. A wire hair fox terrier. My daughter named him Caesar. He has been the greatest addition to our family. Callie, my daughter, loves to kayak and swim and Caesar is right there with her. This dog loves kids and people! I sent a few photos for you.

Again, Thanks!

Courtney Shell
Hello Joy,
I thought maybe you would be interested in an update. in march, Ella will be 2 years old and she has really made a mark on our family.
she has a friend George, who is a female cat that showed up at my door one rainy night and immediately fell for Ella.....they are the best of friends. they play all day and all night....the night is a little of a nuisance but they are happy so that is what counts.
nit-noi is my dog from south Africa...also wire haired fox terrier. she is 11 years old but you can still see Ella and her running from one side of the house to the other....happy.
I thought maybe you would like to see who she is with and see pictures of what she looks like...
hope you had a nice holiday.
take good care...
Tari Loomis Trapenard in Costa Rica



Joy,

I apologize for it taking me so long to get back to you. I actually just got back from a lovely trip to Kuwait.

Lego and Charlie Brown continue to do well. They are finally home in Louisiana and are actually enjoying life on the bayou. The weather is great and they enjoy their daily run (thanks to the suggestion from Dr. Bryant). We had a birthday party last weekend for Charlie Brown and he got lots of new toys. My boys are still the love of my life and I couldn't be happier.

I hope you have a great holiday season!!!

-Abby, Steve, Lego and Charlie Brown Lanni

Attached are pictures of Lego and Charlie Brown lounging on the couch. To say these dogs are spoiled, is a severe understatement.

Judy, Wallie and Callie

Hi Joy,

I just check your site from time to time making sure you are still in the business. I can not begin to express to you how much joy your pups have given me. We lost Judy in 2006 and I still miss her terribly but Wally (14) and Callie (7) keep me laughing. I'm now a stay at home grandma with five little ones, the oldest just turned 5 and the youngest are 5 and 6 months. I'm able to be here for Wally who has gone deaf and limited vision. His legs aren't what they use to be either but he still gets up and plays and takes care of Callie. I was worried when I started watching the babies because of Wally's age but he is very protective of the kids, loves the babies, he lays right down next to them on the blanket and they can grab his hair and he doesn't mind at all......

I'm going to drop you a couple of photos of my darlings.

Judy, Wally and Callie

Nonie Gramlich
Buster Ruger Rushin enjoying his first winter and snow--- is really in his

glory running like a greyhound in the back yard.

Here he is with a "snow mustache!" Is up to 15.3 pounds as of 3 weeks

ago and is VERY long with his muzzle reaching on the kitchen cabinet

tops so we have a lot of "no's!"

Have a great Holiday Season. Thank you for our Baby Boy who now

sleeps with his Daddy every night.

Sincerely,

John, Barbara & Alysson Rushin
St. Joseph, Missouri
Good morning Joy, just wanted to let you know how Chelsie is doing. She has had her surgery (spayed) and recovered very well. Chelsie now weighs 14.5 lbs and is 8 months old, she loves the peas, apples and of course the yogurt!! Chelsie is enrolled in the January class for beginners and I really look for her to pass with flying colors, she loves to be the center of attention and the class clown but I would not want her any other way! Chelsie is very protective of Ed and I and senses when you don't feel good because she will lay on your lap until you get up. Chelsie loves to go camping and meet all the other dogs there and has made a lot of new friends. Christmas is coming soon and I can't wait to see her open her gifts as she has plenty!! Once again Joy I want to thank you for letting Ed and I have Chelsie because she has become the center of our lives.
Susan Sanders
Doing great...a good walker, retriever,
swimmer and a lovebug! We adore him!
He's a beauty, don't you think?
Bing Owned by Denise Bonner

". . .Zoe(rhymes with Joey) is now almost 4 months(June 26) and weighs 12lbs 3 oz. Everything checked out "A-OK" at the vet. won't have to go back now for a year.

She is a real goof. She loves to eat anything. Besides regular puppy food, she likes hamburger, rice, baby food mixed in there. Tomatoes, broccoli, carrots are all on the begging list as well.

She can sit, lay down, jump, roll over, come, shake hands, speak(bark), fetch a rope, all for a small reward of course. She loves to go to the park and run, loves to meet new people, and ride in the car. . ."
Joy,

Here is a picture of Rae and Rowdy. He just ran out of gas after a fun encounter with the sprinkler. He is doing real well, he has lots of energy, but is fitting in real well. He is doing good on commands and is learning a lot, he is very vocal and loves to play, the rougher the better. Asta and him get along real well, occasionally Rowdy pushes her limits and she lets him know about it. I mentioned to you before that Asta loves dill pickles, well, he does too. Our vet is real impressed with him, and his feisty little terrier-tude. He is our boy.

Jerry and Lavina Chambers
I like it at my new home. My new mom and dad love me so much. I know this because they tell me all the time. I am liking my new home. I have a sister and we get along pretty well. I do make her mad sometimes as I like to play a lot and bite. But overall we like each other. My new family has named me Quincy. I think I will like it, when I can remember that is me.

I am eating well, and I have not had one accident in the house so far. My mom and dad tell me I must not bite. Not sure what that means, but Mom says I am smart and will learn.

Mom says she is so thankful to you, for me. Mom is sending a picture of me because she said I look so handsome. She said she will e-mail you from time to time and sends pictures so you too can watch me grow.

I have to go now Joy. I think it is time to go outside and piddle. After that I may go pick on my new sister. I miss you but I like it here.

Bye for now Joy. Thank you and I will talk to you soon.

Debbi & Quincy Orlowski